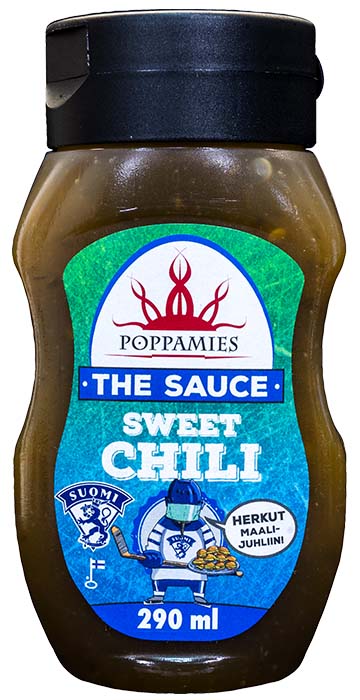 POPPAMIES THE SAUCE – SWEET CHILI
Mahtavan makuinen yhdistelmä makeutta ja chiliä!
Poppamiehen The Sauce – Sweet Chili on herkullinen ja makea chilikastike, jossa maistuu chilin lisäksi fermentoidut paprika ja sitruuna, sekä Poppamiehen mahtavat mausteet. Sweet Chili -kastike sopii yleisesti pöytämausteeksi, ruoanlaittoon, sekä grilliruoan valeluun.
Lue kotikatsomon kisaeväät -reseptilehti! Lehti on täynnä helppoja ja nopeita kisaeväsreseptejä The Sauce -kastikkeille.
Ainesosat: vesi, sokeri, jalapeno (18%) (Costa Rica), ruokosokeri, fermentoitu sitruuna, muunnettu maissitärkkelys, sokeriruokoetikka, suola, etikka, stabilointiaine, suola, etikka, stabilointiaine (ksantaanikumi), mausteet, sitruskuitu, säilöntäaineet (kaliumsorbaatti, natriumbentsoaatti)
| | |
| --- | --- |
| Ravintosisältö | per 100g |
| Energiaa | 787kJ/185kcal |
| Rasvaa | 0g |
| (Joista tyydyttyneitä) | 0g |
| Hiilihydraatteja | 45g |
| -josta sokeria | 42g |
| Proteiinia | 0,5g |
| Suola | 1,5g |
Koko: 290 ml
Tulisuus: 3/5
EAN: 6430034017486
Gluteeniton, laktoositon, vegaaninen
Avattuna säilytettävä jääkaapissa