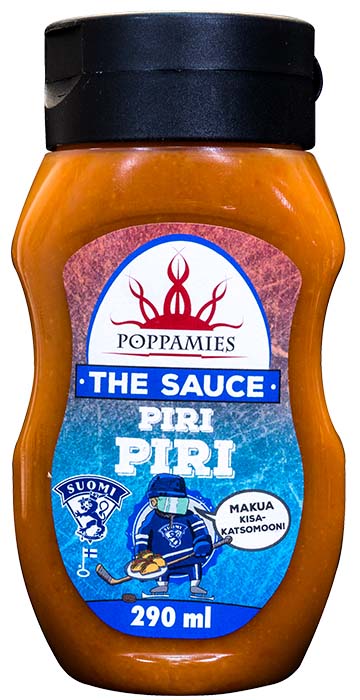 POPPAMIES THE SAUCE – PIRI PIRI
THE SAUCE - PIRI PIRI, erinomainen kanan marinointiin ja valeluun grillissä!
Poppamies The Sauce – Piri Piri on fermentoiduista raaka-aineista, vahvoista mausteista, sekä mukavan tulisesta chilistä valmistettu äärimmäisen herkullinen kastike. Kastikkeessa on yhdistetty Etelä-Euroopan piri piri -kastikkeen makua fermentoituihin raaka-aineisiin, jotka luovat makuun syvyyttä, sekä tekevät kastikkeessa erinomaisen marinointiin. Poppamiehen Piri Piri -kastiketta voi käyttää marinointiin, dippailuun, grilliruoan valeluun, tai yleisesti pöytämausteena. Tulisuus kastikkeessa on 3/5.
Poppamiehen The Sauce -sarjan kastikkeet soveltuvat erinomaisesti myös dippikastikkeiksi! Kokeile vaikka siipien kanssa!
Vesi, tomaattimurska, sipuli, cayenne, ruokosokeri, fermentoitu punainen paprika, rapsiöljy, etikka, suola, fermentoitu sitruuna, sokeri, mausteet (valkosipuli, korianteri, inkivääri, sipuli, juustokumina, oregano), muunnettu maissitärkkelys, sitruskuitu, säilöntäaineet (kaliumsorbaatti, natriumbentsoaatti).
| | |
| --- | --- |
| Ravintosisältö/Näringsinnehåll | per 100g |
| Energiaa/Energi | 423kJ/101kcal |
| Rasvaa/Fett | 4,6g |
| (Joista tyydyttyneitä/Varav mättat) | 0g |
| Hiilihydraatteja/Kolhydrat | 13g |
| -josta sokeria/varav socker | 10g |
| Proteiinia/Protein | 0,9g |
| Suola/Salt | 2,7g |
Koko: 290 ml
Tulisuus: 3/5
EAN: 6430034017462