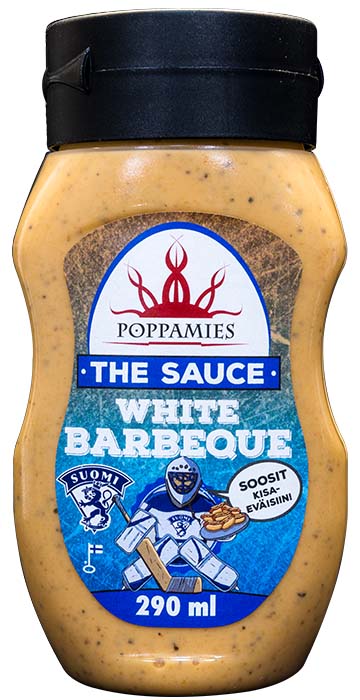 POPPAMIES THE SAUCE – WHITE BARBEQUE
Täysin uudenlainen valkoinen grillikastike!
Poppamiehen The Sauce – White Barbeque on uudenlainen, vahvasti maustettu majoneesipohjainen grillikastike, joka soveltuu erityisesti kanalle ja possulle. Tuotteen makumaailma juontaa juurensa Yhdysvalloissa kehitettyyn grillikastikkeeseen, jossa kastikkeen pohjana käytetään majoneesia tomaatin sijaan. Kastikkeessa maistuu mustapippuri, piparjuuri, chili ja valkosipuli. Kastiketta valellaan lihalle tai kasviksille valmistuksen loppuvaiheessa. White Barbeque -kastiketta voi käyttää myös dippinä, tai normaalin majoneesin tavoin.
Ainesosat: Rapsiäljy (EU), vesi, ruokosokeri, valkoviinietikka, sokeri, väkiviinietikka, sakeuttamisaineet (muunnettu maissitärkkelys, ksantaanikumi), suola, mustapippuri, SINAPINSIEMEN, cayenne, piparjuuri, valkosipuli, säilöntäaineet (kaliumsorbaatti, netriumbentsoaatti), hapettumisenestoaine (E385).
| | |
| --- | --- |
| Ravintosisältö/Näringsinnehåll | per 100g |
| Energiaa/Energi | 2084kJ/506kcal |
| Rasvaa/Fett | 52g |
| (Joista tyydyttyneitä/Varav mättat) | 3,4g |
| Hiilihydraatteja/Kolhydrat | 8,8g |
| -josta sokeria/varav socker | 6g |
| Proteiinia/Protein | 0,8g |
| Suola/Salt | 0,75g |
Koko: 290 ml
Tulisuus: 2/5
EAN: 6430034017509
Gluteeniton, laktoositon, vegaaninen
Avattuna säilytettävä jääkapissa
Valmistusmaa: Suomi