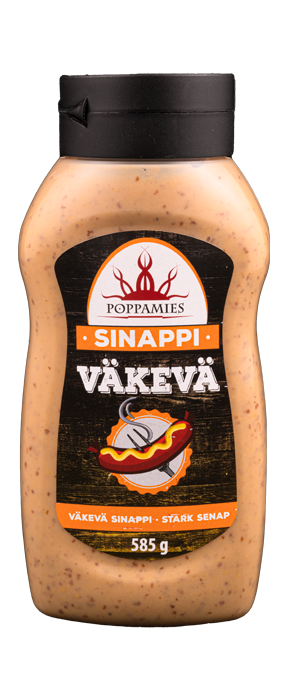 POPPAMIES ORIGINAL MUSTARD
Perfect mustard, enough sweetness and full of flavour!
The perfect mustard, pleasantly sweet and full of taste. The amazing flavor is created by utilizing several types of mustard seeds. In this mustard, the tanginess and flavor come into their own, together with the spice mix developed by Poppamies for this purpose. The mustard is made in Häme, Finland, and it is strong on the Finnish scale. In other words, this is not a chili mustard. Poppamies Strong Original Mustard is versatile and well-suited for use in cooking or as a condiment for sausages and grilled food, and it is also excellent for basting pork or fish.
water, sugar, MUSTARD SEED (Canada), apple, white wine vinegar, modified cornstrach, salt, preservative (sodium benzoate), spices
| | |
| --- | --- |
| Nutrition Facts | per 100g |
| Calories | 881kJ/204kcal |
| Total Fat | 6g |
| (saturated) | 0,4g |
| Total Carbonhydrate | 34g |
| (sugars) | 30g |
| Protein | 4,9g |
| Salt | 0,37g |
Size: 585 g
Spiciness: 0/10
EAN: 6430034016649