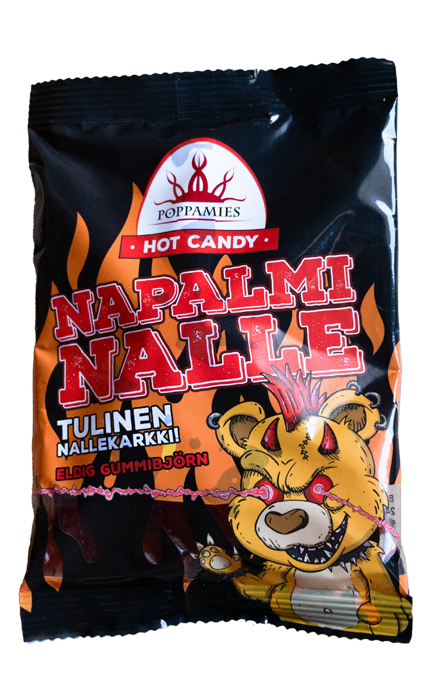 POPPAMIES NAPALMINALLE – FIERY GUMMY BEAR
Explosive action! Join Napalminalle's adventures and discover a way into a new world of spicy gummy bears! Napalminalle is also suitable for vegans!
This mutated teddy bear roams lasers blazing in the primeval forests of Finland, and shares its sweet burn with all the lovers of fiery candies!
However, despite its wild appearance, this misunderstood piece of nature is a soft teddy bear trying to find justice and understanding in the world in its own limited way. If a small burn doesn't bother you, then you too can be a part of Napalminalle's hot adventures by taking her home with you!
Glucose syrup, sugar, water, gelling agent (pectin), acid (citric acid), flavor, habanero powder (0.4%), plant extracts (safflower, red radish), surface treatment agent (carnauba wax). VEGAN: does not contain ingredients of animal origin and has not been used in the manufacture of ingredients of animal origin. GLUTEN FREE. VEGAN.
| | |
| --- | --- |
| Nutrition Facts | per 100g |
| Calories | 1472kJ/347kcal |
| Total Fat | 0,5g |
| Saturated Fat | 0,3g |
| Total Carbohydrates | 85g |
| Total Sugars | 62g |
| Protein | 0,5g |
| Salt | 0,01g |
Size: 125g
Spiciness: 4/10
Gluten free, lactose free, vegan
EAN: 6430034011446
Country of origin: Deutchland