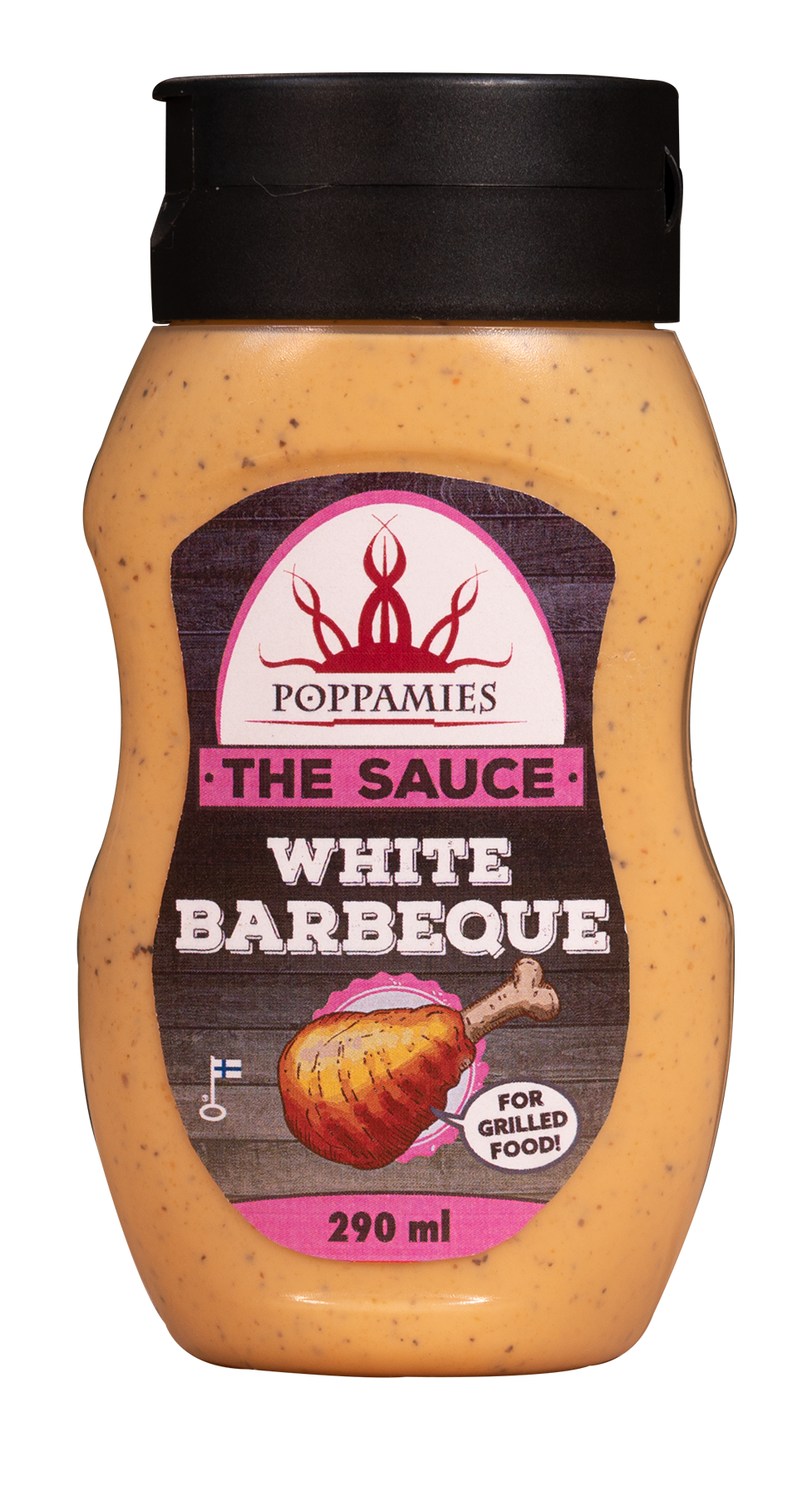 POPPAMIES THE SAUCE – WHITE BARBEQUE
Poppamies' vision of white barbecue sauce!
Poppamies The Sauce – White Barbeque is a new, strongly seasoned mayonnaise-based barbecue sauce that is particularly well suited for chicken and pork. The flavour of the product is rooted in a barbecue sauce developed in the Unites States, in which the base of the sauce is mayonnaise rather than tomato. The aromas found in the sauce are black pepper, horseradish, chili and garlic. Its heat level is a moderate 2/5. The sauce is basted on meat or vegetables in the final stage of cooking. White Barbeque Sauce can also be used like normal mayonnaise or as a dip.
Rapeseed oil (eu), water, cane sugar, white wine vinegar, sugar, spirit vinegar, thickener (modified corn starch, xanthan gum), salt, black pepper, mustard seed, cayenne, horseradish, garlic, preservatives (potassium sorbate, sodium bentzoate), antioxidant (E385).
| | |
| --- | --- |
| Nutrition Facts | per 100g |
| Calories | 2084kJ/506kcal |
| Total Fat | 52g |
| (Saturated) | 3,4g |
| Total Carbonhydrate | 8,8g |
| (sugars) | 6g |
| Protein | 0,8g |
| Salt | 0,75g |
Size: 290 ml
Spiciness: 2/5
EAN: 6430034017509
Gluten-free, lactose free
Country of Manufacture: Finland.
Refrigerate after opening