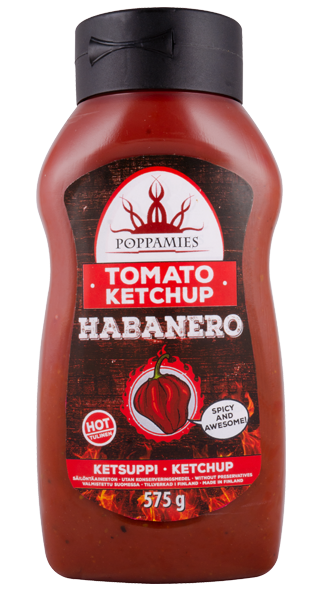 POPPAMIES HABANERO AND TOMATO KETCHUP
Pleasantly spicy ketchup without reservatives!
A pleasantly hot Finnish mustard without additives! An extremely tasty tomato ketchup made from fresh, crushed habanero that caresses the nerves just right with its fiery flavor! Use this ketchup to season your pasta casseroles and other ketchup dishes and take them to a whole new world of flavors!
tomato purée (67%)(EU), habanero mash (6%) [habanero (88%), cane vinegar, salt] (Costa Rica), sugar, vinegar, modified cornstarch, salt, thickening (xanthan gum).
| | |
| --- | --- |
| Nutrition Facts | per 100g |
| Calories | 434kJ/102kcal |
| Total Fat | 0g |
| (saturated) | 0g |
| Total Carbonhydrates | 23g |
| (sugars) | 20g |
| Protein | 1,3g |
| Salt | 2,1g |
Size: 575 g
Spiciness: 3/10
Gluten-free, lactose free, vegan
EAN: 6430034016380