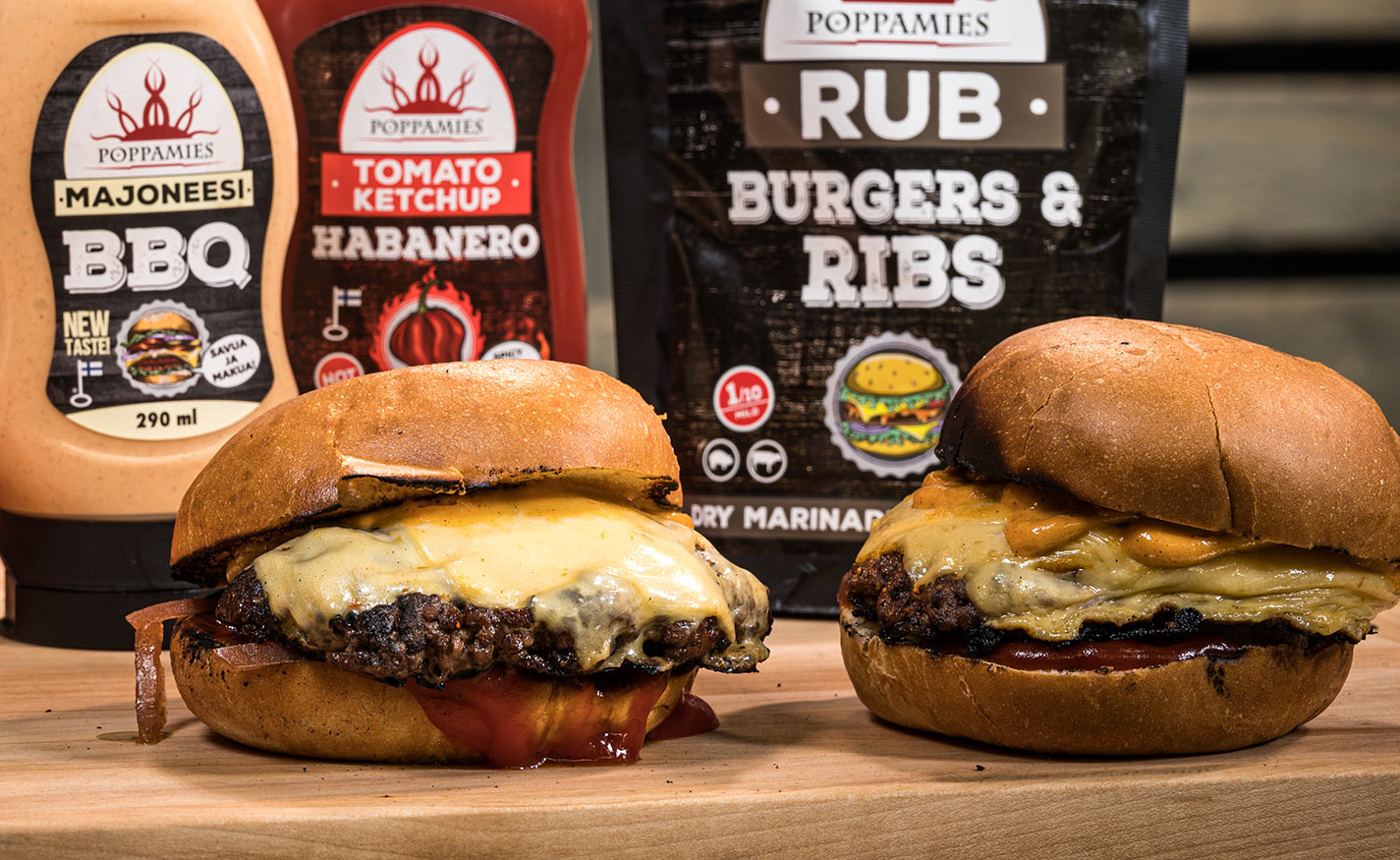 Smash Burger is one of the greatest barbecue hits this summer! Its popularity is based on the flavour and fast cooking that results from grilling. We will make a Poppamies Chili & Cheese Smash Burger, which is easy to make and guaranteed to taste great!
The name of smash burger comes from the burger, which is cooked by squashing it on the hot surface. This will create a wonderfully tasty and well browned surface on the burger. The meat chosen for a smash burger should be as fatty as possible, 20 % fat content is suitable.
Form the ground beef into four balls of 100 grammes. You don't have to knead the meat, just form it a little. Heat the grill up to hot temperature, about 250-300 °C. Place a gridiron or pan on direct heat, we at Poppamies like to use a cast-iron gridiron. Close the grill hood and wait until the gridiron is truly hot.
Place one ball of ground beef on the gridiron, and smash it down using a wide metal spatula. If you don't have a suitable spatula, use a small steel pot for the smashing. Keep the burger smashed onto the cooking surface for about 10 seconds to make it brown properly. When the burger is browned, turn it over and sprinkle it with Poppamies Burger & Ribs Rub or Texas Beef Rub. Place two slices of Cheddar cheese on the burger and close the hood.
Toast the bun halves on the grill until crisp. Spread some Poppamies Habanero Ketchup on the bottom half, add some gherkin slices and pickled onion, and then the burger. Add some Poppamies BBQ Mayonnaise on the top half and place it on the burger.
Feel free to try other Poppamies rubs, mayonnaises, and other products in your burger – you are sure to find your Smash Burger favourite among them!