CHICKEN GYROS WITH TZATZIKI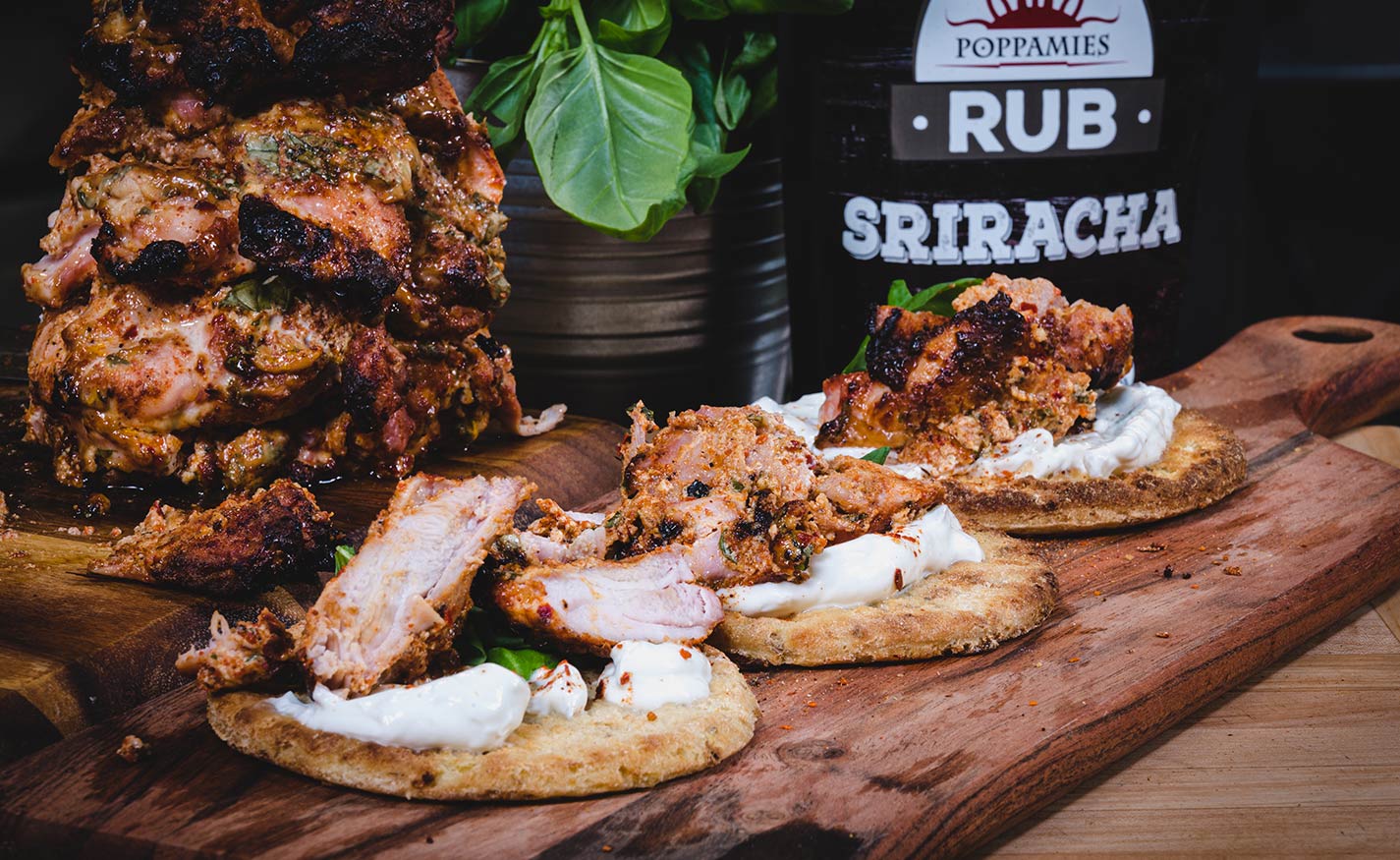 Gyros is a Greek classic, meat slowly grilled on a skewer, which is most often enjoyed with pita bread. In the Poppamies summer kitchen we cooked chicken gyros slowly on the grill. An easy tzatziki sauce is made on the side and a delightful dish is ready!
Spread the Poppamies Sriracha RUB on a plate and pour some Greek-style yogurt on another plate. Take a handful of fresh mint, chop it finely and mix it with the yogurt.
Dab both sides of the chicken thighs in the Sriracha Rub, and then dip both sides of them in the yogurt. If you have time, place the chicken thighs into the fridge and leave them to marinade for a few hours.
Pile the thighs into a tower. When the tower is about 10 cm high, push one wooden skewer through the thighs. Add the rest of the thighs by pushing them into the skewer. At the end, push 2-3 more skewers through the thighs, to make sure that the thighs will stay upright on the grill. You can cut off the tops of the skewers if your tower doesn't fit under the grill.
Push the embers on both sides of the grill and leave an area of indirect heat in the middle. Heat up the grill to about 170-200 °C and place the chicken tower in the middle on indirect heat. If you need to revise grill temperature ranges and their adjustments, watch the Poppamies BBQ Course!
Grill the chicken tower for about 1-1.5 h, until the inside temperature is 72 °C. The skewer tower should be turned every 30 minutes to make the skewer cook evenly from every side.
Cut the meat vertically from the skewer and serve with tzatziki wrapped in a flatbread or with tacos!
Tzatziki
Mix the ingredients in a bowl and allow to set in the fridge.