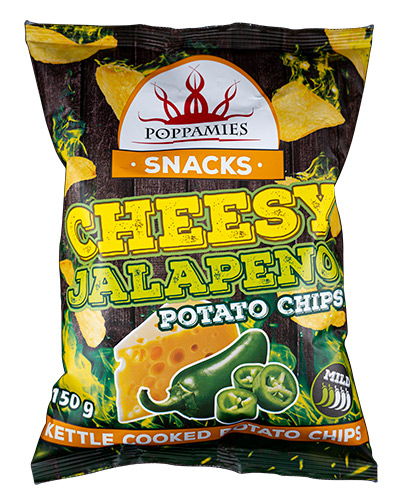 Poppamies Cheesy Jalapeno Potato Chips
Hot jalapeno and delicious cheese.
Poppamies hot and fiery chips are here!
These high-quality Poppamies potato chips are made in our small factory with extreme
skill and care. The chips are sorted manually, meaning that we are able to
ensure that only the highest quality potatoes are used for our crispy chips.
The cleaned potatoes are cut into chunky slices – we do not peel the potatoes to preserve
the taste. The chips are then boiled leisurely at low heat in sunflower oil,
one small batch at a time to ensure impeccable results.
The result is an extremely crunchy, extremely tasty potato chip elevated to perfection by
the addition of Poppamies seasoning!
Handmade potato chips
Hot jalapeno, delicious cheese and crunchy potato chips make a masterful combination packed with flavor. These are handmade, high-quality potato chips that may lead to addiction! Jalapeno flavored chips are not very hot, but if you need more of a kick, try the Poppamies Habanero potato chips!
JALAPENO AND CHEESE FLAVORED POTATO CHIPS. INGREDIENTS: Potato (69%), sunflower oil, spices, salt, WHEY powder (contains MILK), LACTOSE, sugar, POWDERED CHEESE, dried yeast, onion, natural flavoring (contains MILK), acidity regulator (citric acid, lactic acid, calcium lactate), garlic.
| | |
| --- | --- |
| Nutrition facts | per 100g |
| Energy | 2086kJ/500kcal |
| Fat | 29g |
| (saturated) | 3,3g |
| Total carbonhydrates | 51g |
| (sugars) | |
| Protein | 7g |
| Salt | 1,3g |
Size: 150 g
Spiciness: 2/5
EAN: 6430034016748