Poppamiehen Piri Piri-lohiburgeri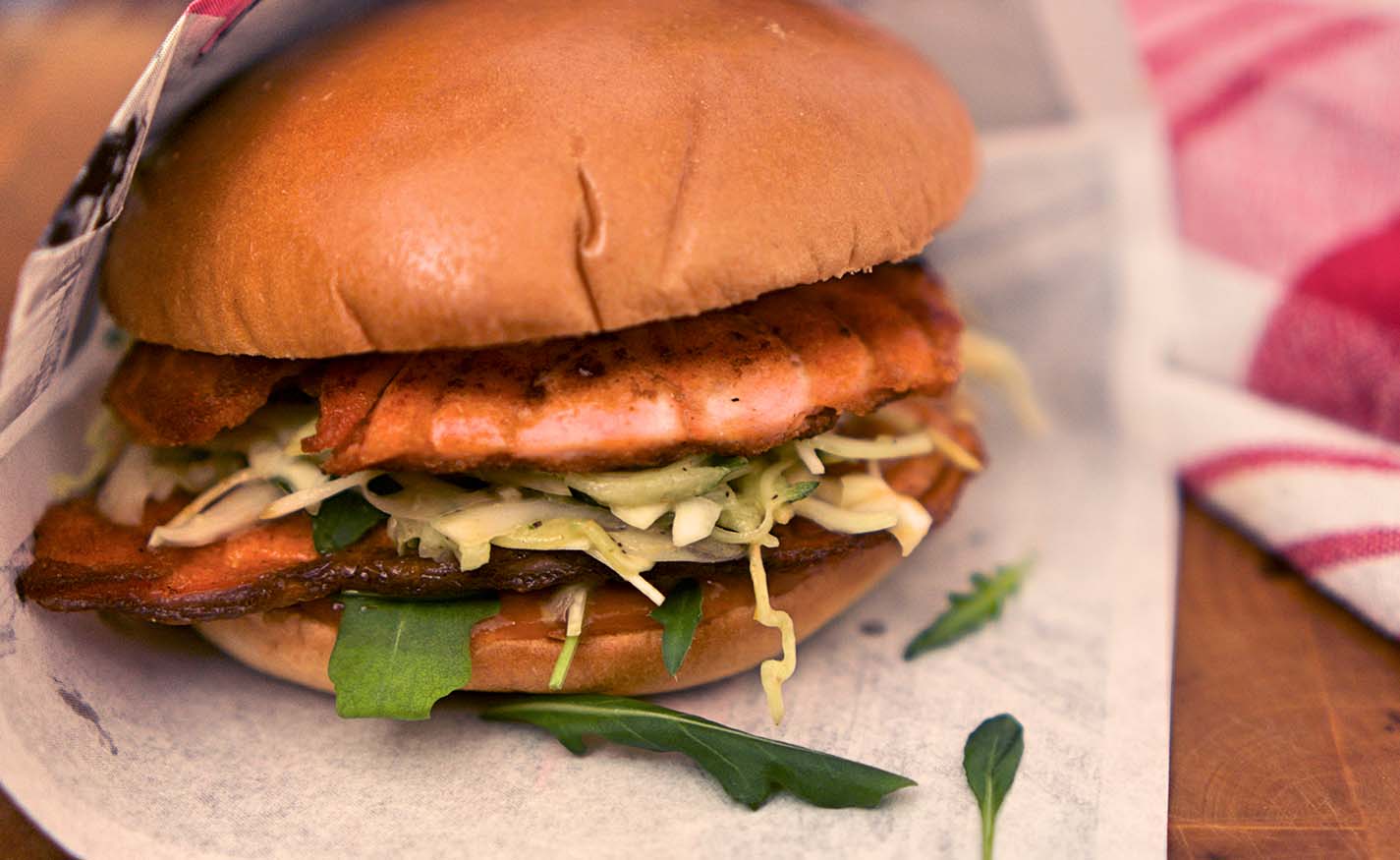 Poppamiehen The Sauce Piri Piri-maustekastike tuo juuri mukavasti potkua tähän herkulliseen lohiburgeriin, johon lohi "halstrataan" kotikeinoin suolapedillä kuumalla valurautapannulla.
Sekoita kaikki kurkkucolen aineet keskenään hyvin sekaisin. Laita jääkaappiin odottamaan burgerin kasausta.
Leikkaa lohesta noin puolen sentin paksuisia siivuja. Kuumenna valurautapannu (tai tasainen paistoparila) savuavan kuumaksi. Ripottele tasaisesti suolaa pannulle. Aseta lohisiivut pannulle ja anna paahtua kunnolla, käännä ja paahda myös toiselta puolelta. VINKKI: Kokeile maustaa lohi ennen kypsentämistä kauttaaltaan Poppamies Louisiana Cajun -mausteseoksella. Lousiana Cajunissa ei ole lisättyä sokeria, joten maustepinnan voi huoletta antaa kunnolla tummua, jolloin maut syventyvät entisestään! Jos käytät Lousiana Cajunia, voit jättää suolan pannulta pois.
Leikkaa hampurilaissämpylät kahtia. Voitele sämpylät voilla ja paahda kuumalla paistiinpannulla noin puolen minuutin ajan, jotta pinnat saavat kauniin värin.
Pursota Poppamies The Sauce Piri Piri-maustekastiketta sämpylöille. Laita alle rucolaa, sitten kurkkucolea, siivut lohta ja lopuksi kansi päälle. Nauti!