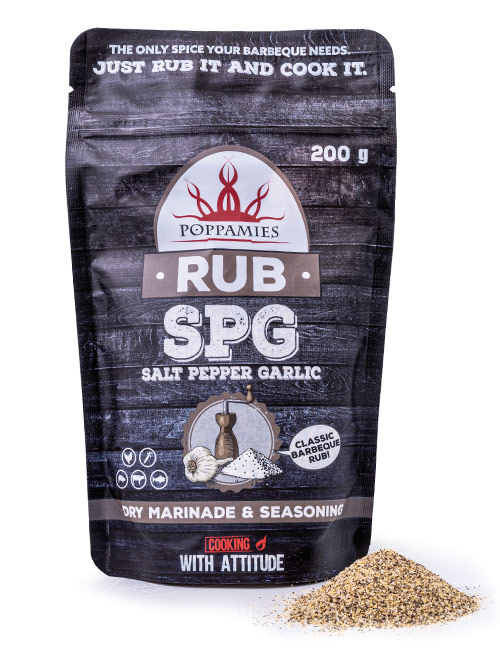 POPPAMIES SPG RUB
SALT, PEPPER & GARLIC, the SPG!
SPG is a legendary spice mix consisting of salt, black pepper and garlic. It has a long history in Finnish cuisine, as well as American barbequing. Season your food before or after cooking. Rub a generous amount of the spice into the meat, approx. 40–50 g per kilo of meat. Experiment with all kinds of food, from roast potatoes to brisket! SPG is ideal on beef and veggies alike – it is a true multipurpose spice.
Black Pepper (36%), Garlic (36%), salt.
| | |
| --- | --- |
| Nutrition Facts | per 100g |
| Calories | 967kJ/223kcal |
| Total Fat | 1,4g |
| Saturated Fat | 0,6g |
| Total Carbohydrates | 38,3g |
| Total Sugars | 1,1g |
| Protein | 9,7g |
| Salt | 27,6g |
Size: 200 g
Spiciness: 0/10
EAN: 6430034017424