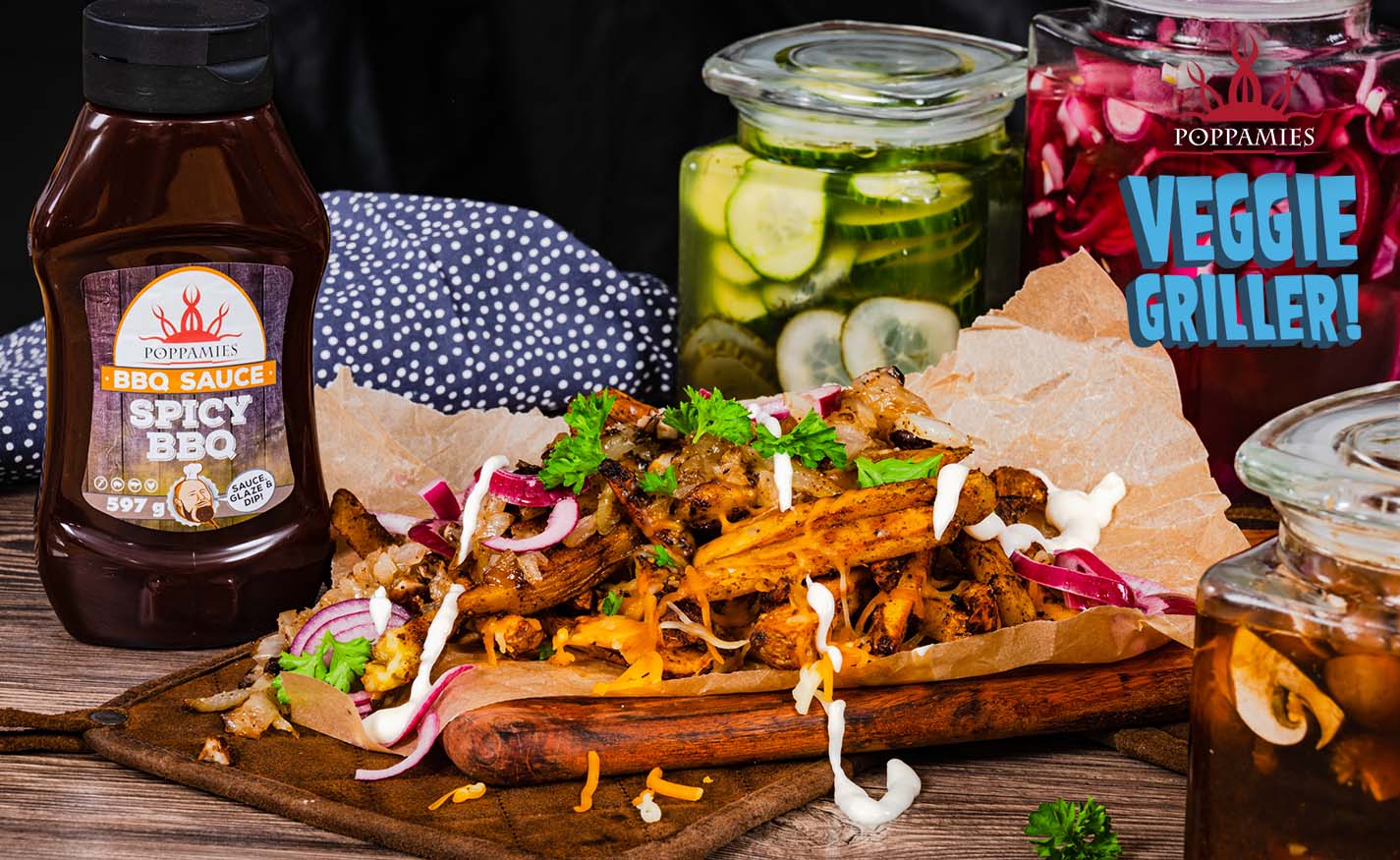 Loaded fries on yleensä juustokastikkeeseen hukutettuja ranskalaisia, mutta me käytämme mieluummin juustoraastetta kuumien ranskalaisten päälle, jolloin ranskalaisten napakkuus säilyy paremmin. Täydennämme annosta vielä herkullisella sipulisienimuhennoksella tuomaan lisää makua kokonaisuuteen. Jos et tee kasvisversiota, niin voit lisätä reseptiin vielä pekonia tai savustettua porsaan kylkeä.
Leikkaa puikulaperunoista pitkittäin n. sentin paksuisia ranskalaisia. Liota niitä 30 minuuttia kylmässä vedessä. Pilko herkkusienet ja sipuli karkeasti.
Valuta vesi pois, lisää n. 2–3 rkl öljyä ja sekoita. Lisää seuraavaksi n. 1,5 rkl Poppamies Louisiana Cajun Rub -mausteseosta.
Kuumenna grillin parila keskilämmölle, tai grilli epäsuoralle tulelle n. 200 asteeseen. Grillaa ranskalaisia, kunnes perunat ovat kypsiä, napakoita ja kauniin ruskeita. Grillaa samalla parilalla myös sipulit ja herkkusienet öljytilkan kanssa. Mausta sipulit ja herkkusienet Poppamies SPG Rub -mausteseoksella.
Lado ensin puolet ranskalaisista tarjoiluvadille ja ripottele päälle juustoraastetta. Lado päälle loput ranskalaiset ja lisää jälleen juustoa. Lisää annokseen sipuli-herkkusieniseos, pikkelöity punasipuli ja hieman persiljaa koristeeksi.
Suosittelemme ennen tarjoilua lisäämään vielä Poppamies Garlic Majonen – vegaanista majoneesia, sekä Poppamies The Sauce Sweet Chili tai The Sauce White Barbeque -kastiketta.