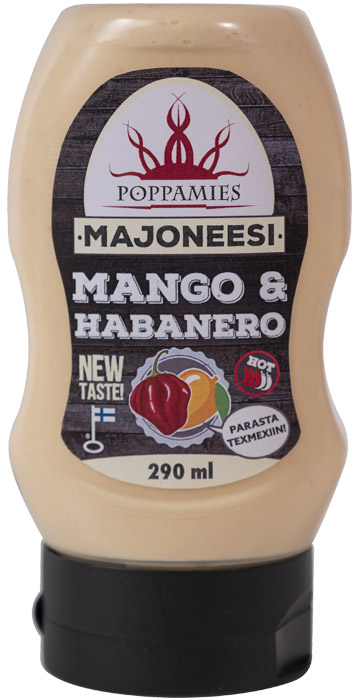 POPPAMIES MANGO & HABANERO MAYONNAISE
Pleasantly spicy chili mayonnaise for every use!

A very tasty and fruity chili mayonnaise by Poppamies. The fresh flavor of mango, combined with the fruity heat of habanero, create a great-tasting mayonnaise for chili lovers. The combination of habanero and mango goes well with all chicken dishes and Tex-Mex, as well as crab and fish dishes.
rapeseed oil (EU), water, mango (7,7%) (EU), habanero mash [habanero (88%), cane vinegar, salt] (Costa Rica), EGG YOLK (4,3%), spirit vinegar, sugar, salt, MUSTARD SEED, mango flavouring, preservatives (potassium sorbate, sodium bentzoate), thickener (xanthan gum), color (beta caroten), antioxidant (calcium disodium EDTA)
| | |
| --- | --- |
| Nutrition Facts | per 100 ml |
| Calories | 2382 kJ/579 kcal |
| Total Fat | 63 g |
| (saturated) | 4,3 g |
| Total Carbonhydrates | 2,8 g |
| (sugars) | 2,5 g |
| Protein | 0,7 g |
| Salt | 1,4 g |
Size: 290 ml
Spiciness: 3/5
Gluten-free, lactose free
Country of Manufacture: Finland. Refrigerate after opening